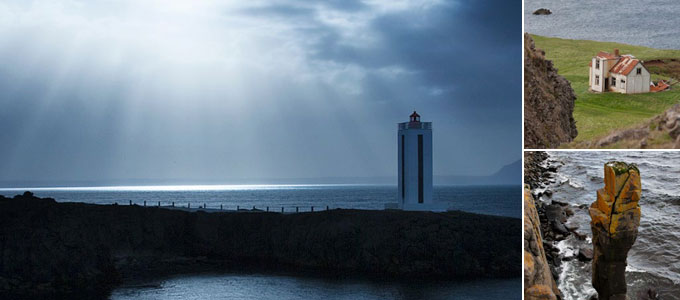 Gunnólfsvíkurfjall mountain is an imposing landmark, rising majestically straight from the shore up to 719 m. South of it lies Langanesströnd, a reposeful farming community at the bottom of the deep blue Bakkaflói bay.
Flocks of common eider can be seen where the road runs near the shore and sometimes king eider can be spotted. A nice place to look for birds is at the small cliffs at Stapi sea stack. Nearby Skeggjastaðir church (1845) is one of the oldest churches in East Iceland.
The tiny village of Bakkafjörður is all about fish. The old village pier has been replaced by a quaint harbour where tranquillity and bustle merge into one timeless experience. East from the village a trail leads to the deserted farm Steintún and Digranes lighthouse, a great place for a hike and some scenic photography.