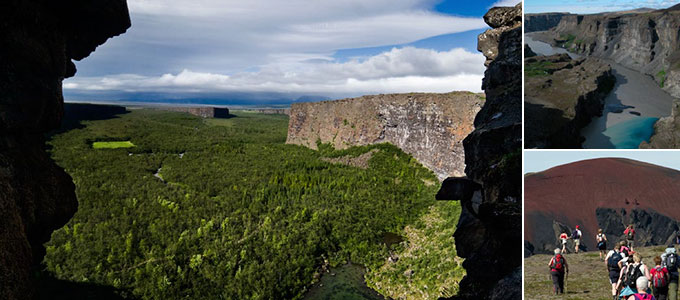 Some of Iceland's most renowned natural attractions are found within Jökulsárgljúfur canyon; natural wonders like Dettifoss, Europe's most powerful waterfall, the pristine Hólmatungur, where babbling springbrooks empty into the glacial river and the mystical volcanic formations at Hljóðaklettar. And then there is Ásbyrgi enclosure, one of our most beloved nature pearls and magical in every season.
Jökulsárgljúfur canyon is approximately 25 km long and over 100 metres where deepest. Declared a national park in 1973, it is now part of Vatnajökull National Park. Gljúfrastofa visitor centre in Ásbyrgi has a wonderful exhibition and provides information about services, attractions and activities in the park and nearby region, such as the great network of hiking trails.
Glacial river Jökulsá and tectonic activity have shaped the landscape and local culture in this region. Though it may have taken mere days for catastrophic floods to carve out the canyon and Ásbyrgi, the river has been wandering back and forth across its vast delta over thousands of years. More recently, in 1976 subsidence caused the creation of Skjálftavatn (Quake Lake), now rich with both fish and birdlife.
Whether you enjoy bird watching, geology, fishing or horse riding, Kelduhverfi district, which lies between Tjörnes peninsula and Jökulsá river, provides ample opportunities for all nature lovers.