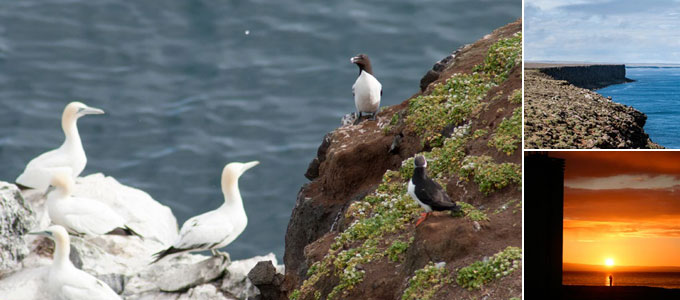 Þórshöfn is a thriving town built on fisheries which are still the backbone of the town's economy. It is also a service centre for neighbouring farm regions, offering all basic services and a great place to stay while exploring its alluring surroundings.
The old vicar's house at nearby Sauðanes is part of the National Museum's Historical Buildings Collection. It is open to the public and has a nice exhibition and a coffee shop.
Langanes peninsula stretches 40-50 km out into the ocean to a point called Fontur. Most of it was populated until mid 20th century by farmers who supplemented their sheep farming with fishing, eiderdown, eggs, driftwood and all available means.
It is a veritable outdoor paradise teeming with birdlife, great for hiking and study of nature and history. Travellers are advised to seek information about the road condition before venturing on to the outer peninsula.
Skoruvíkurbjarg, located mid-way out on its northern shore, is part of the Birding Trail and a great place to view and photograph sea birds such as auks. A viewing platform offers a close range view of a colony of Northern Gannets on the sea stack Stóri Karl.
On the eastern shore are the ruins of village Skálar (1910-1948), testimony to the rise and fall of a fishing village on the eve of motorised fishing boats.