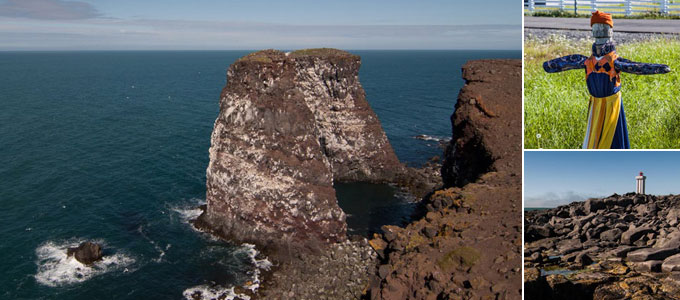 Kópasker is a small village by Öxarfjörður bay. At Snartarstaðir near the village is the District Museum next to the church. The Earthquake Centre in the village should not be missed. It is an intriguing exhibition which explores earthquakes from both geological and social perspectives, with special emphasis on the Kópasker earthquake in 1976.
The coast holds an enchanting tranquillity with the soothing sounds of waves and the chatter of seabirds. You may even spot seals relaxing on skerries or swimming curiously near the shore.
Following the Birding Trail around the coast of Melrakkaslétta is well worth the time and the gravel road it entails. Northeast Iceland is renowned for its rich birdlife thanks to its diverse environmental conditions; from highlands to lowlands, heathery moors and woods to nourishing lakes and wetlands, and the shore in all its variety of shapes with beaches and cliffs.
Rauðinúpur cape, at the northwest point of Melrakkaslétta, is actually a volcano dating back to the ice age. Protruding 73 metres out of the surrounding plain and ocean, this landmark is capped with a lighthouse and guarded by two great sea stacks just off shore. A variety of birds can be seen along the way near Núpskatla farm and up on the cape. Ascending it requires a somewhat challenging hike along a rocky stretch of shore, but awards a good panoramic view on clear days.