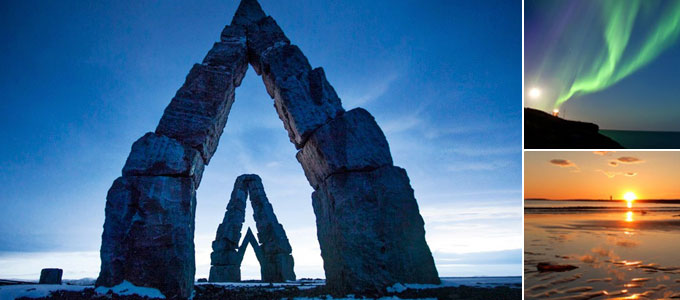 The region of Öxarfjörður and Melrakkaslétta is a meeting point of many worlds. Here lie the plate boundaries of North America and Eurasia, the bio climate goes from boreal oceanic to tundra and the Arctic Fox Plain meets the wide expanse of blue ocean here at the Edge of the Arctic.
Melrakkaslétta is renowned for the natural splendour of its spring and summer nights. Road 870 weaves its way between lakes and lagoons along the rocky driftwood strewn shore, sparse with human habitation and abundant in birds. At the northern extremity of the plain is Hraunhafnartangi point, Iceland's northernmost extent.
Just off the coast lies the Arctic Circle and in the nearby village of Raufarhöfn which can also be reached by the paved road 874. Here, an Arctic Henge is under construction; a huge stone structure with allusions to mythology and folklore, designed to interact with the unique natural light.
Raufarhöfn, formerly a bustling herring village and prominent export harbour, is now a quiet little fishing village in the process of redefining itself. This Arctic Circle village is a peaceful setting to enjoy walks, fishing or birdwatching and offers a front row seat for enjoying the midnight sun in the long days of summer and the spectacular northern lights display in the winter months.