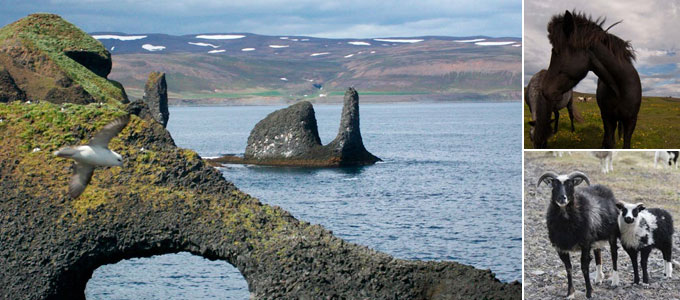 Northeast Iceland offers numerous well known pearls of nature which have attracted travellers from all corners of the world. The area is also rich with lesser known gems and places of interest, not least in its northern parts.
Rauðanes Point in Þistilfjörður district is one of these beautiful 'secret' nature pearls. A marked 7 km long trail circles Rauðanes, leading you past variously sculpted rock formations, natural arches, caves and secluded beaches. The cliffs and sea stacks of this small and scenic headland are home to puffins and a variety of other birds.
Þistilfjörður is a lush green farming district marked by low rolling hills separating shallow valleys through which some of Iceland's favourite salmon rivers run. The area is renowned for its traditional sheep farming and has several prominent farms congregated in the lower valleys and towards the coastline.
Foremost among its historic farms is the church site Svalbarð, which serves as a municipal seat and is the site of the community hall and former school.
In the old community hall nearby, an Information Centre for Leader sheep has been established. There you will find a nicely designed exhibition about this ancient breed of Icelandic sheep known for their unique leader characteristics, sense of directions and uncanny weather prediction.