World renowned nature pearl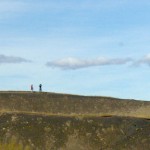 From earliest times, Mývatn has attracted strong interest and has been among those places that most people would like to visit, observe and explore. Mývatn is Iceland´s fourth largest lake, 37 km2 in area, having a shoreline deeply incised by numerous small creeks and speckled with about 50 islands and small islets.
Mývatn is very shallow, so sunlight reaches the bottom practically everywhere and, since the Mývatn region is among Iceland's sunniest regions, vigorous photosynthesis takes place in the waters of the lake. Consequently Mývatn is particularly rich in nutrition, and Iceland's most fertile freshwater lake.
Remarkable bird life
Mývatn region is famed for its birdlife on and around the lake as the area is favoured by various species of duck and wetland birds. In summer, more species of duck have made their homes in the Mývatn region than in any other location on earth. Swarms of midges of the species Chironomidae make their mark on the environment and it is from those small creatures that the lake derives its name. Lake Mývatn is protected by law and has been placed on a register of internationally significant marshland areas, together with the river Laxá which flows from it.
Craters and volcanoes have sculpted the landscape of the Mývatn region, many of which are famous attractions and spots of special interest; e.g. the volcanic craters at Krafla, Hverfjall (Hverfell), Lúdentsborgir and Þrengslaborgir. These have produced the huge quantities of lava which so strongly makes its mark on the landscape.The cluster of pseudo craters on the lake shore at Skútustaðir has been declared a national monument. On the north-west slope of Krafla volcano is the explosion crater Víti, 300 metres in diameter. At the bottom of this huge bowl, where fires once raged, is now a placid green lake.
The boundless energy which swells and rumbles in the bowels of the earth has been harnessed to some extent, for example by building geothermal steam plants at Krafla volcano and Bjarnarflag high-temperature area. The geothermal eastern slopes of Námafjall mountain represent one of Iceland's most extensive tracts of boiling sulphuric clay pits.
Reykjahlíð village
The Mývatn district is well-populated by farms and the village of Reykjahlíð where all general services may be obtained. Tourism is an important industry and the variety of accommodation and recreation is ever increasing. The Mývatn Nature Baths give visitors the opportunity to relax and enjoy physical and mental recreation in a colourful natural environment.
Eight kilometres south of Reykjahlíð is the Dimmuborgir area, one of Iceland's best known pearls of nature with their mystical lava formations, holed pillars of rock, domes and caves. Sigurgeir's Bird Museum at Ytri-Neslönd holds a remarkable collection of stuffed birds.
Within the Mývatn Information Centre in Reykjahlíð, the Environmental Agency provides information on the natural characteristics of the area and its protection. Also operating here is the Mývatn Research Station, researching and monitoring this unique eco-system.
The climate and natural environment of the Mývatn region invariably leaves a lasting impression on all visitors.