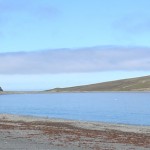 The coast charms and attracts all those who seek natural beauty and a pleasant way of life. The murmur of the surf is music to your ears and the wide expanse of the blue ocean blends into the northern horizon. In some places steep mountains rise out of the sea, elsewhere the surging surf crashes upon dark sandflats. East of the river Skjálfandafljót, tuff is the dominant type of rock and Tjörnes point perpetuates the history of Ice Age glacial spells in its remarkable fossil layers. The landscape is shaped by diverse forces and nature combines soft attraction with rugged barrenness.
Coastal culture
Human activity has prospered for more than a thousand years along the Þingeyjarsýsla coasts where, century after century, varying conditions have made their mark on the generations. The ocean breeds rich fishing grounds where fishermen seek a living in both large and small boats. Where conditions are favourable, settlements have sprung up, thriving villages and a town, where the harbours have always played a key role as bustling centres of activity. What the people do, create and cause to happen is known as culture. The coastal culture of Þingeyjarsýsla is rich and varied. It has a strong connection with the past, but its people also look towards the future with optimism. The aim is set high.
Fauna
The fauna of the coastal regions is rich and multifarious. Various fish species inhabit the depths of the sea, seals are common, whales blow far out in the bay and, over the waters of the fjords, large numbers of birds glide on spread wings, borne along by the updraught caused by steep mountain slopes.
Enchanting world of adventure
The coast of North-East Iceland offers many options for outdoor recreation and is a veritable world of adventure for young and old. Sailing off the coast, enjoying the sea air and environment as you watch the landscape pass by is an attractive option. There are also fishing trips, nature sightseeing and relaxing shoreline walks where multicoloured seashells attract one's attention. Energetic visitors can scale the sea cliffs for panoramic ocean views.
Lighthouses
Much is done to ensure the safety of those who pass along the coast as well as that of seamen. It is a century now, since travellers and seafarers began to be guided by the bright flashes emanating from the lighthouses dotted along the coastline at regular intervals, like gigantic guardians. In the Þingeyjarsýsla area there are 14 friendly pillars of stone sending flashes of light to those who pass their domains to warn them of impending danger. They guard the coasts of Þingeyjarsýsla, shed light on the culture of the inhabitants and, in many cases, show travellers the way to places of interest.