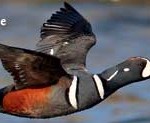 Birds in Northeast Iceland
Diverse bird habitats are found in Northeast Iceland and of the 75 Icelandic breeding bird species, 62 nest annually in the area. By adding the migrant and vagrant birds one can anticipate over 70 species of birds in Northeast Iceland on a good spring/summer day. This makes Northeast Iceland the best birdwatching area in Iceland during this time of year.
Birding trail at the Edge of the Arctic
A group of local birding experts and enthusiasts has in recent years been working on improving information and access to bird watching in Northeast Iceland under the theme Birding trail at the Edge of the Arctic. Several prime birding locations have been identified and marked on a map.